The pros and cons of boot camp-style exercise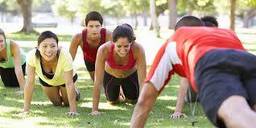 Boot camp exercise classes are an increasingly popular trend that pushes its participants to the maximum limit of their endurance and strength. A boot camp class is structured like a series of intense military drills under the watchful eye of a trainer who keeps the group organised, moving quickly, and transitioning from one exercise to the next. These classes combine aerobic and anaerobic fitness and strengthen both cardiovascular fitness and muscular strength. Read on to find out if boot camp fitness is right for you:
Boot camp classes are extremely efficient and every minute is used for exercise, meaning that you will get one full hour of guaranteed exertion and will not waste time. Boot camp classes are also geared to be high energy and very motivational. The trainer encourages the class to push themselves and each session is geared to overcome physical challenges.
By sharing a class with others, the fees are also much lower than those paid for one-on-one sessions with a personal trainer. Boot camp sessions are also exciting and give a new perspective to the usual drills and workouts you are used to doing in the gym. Boot camp classes are frequently organised outdoors on obstacle courses and in the fresh air and sun.
Despite all these benefits, boot camp classes are not necessarily the ideal fit for everyone. A boot camp class is not tailor-made to suit your individual fitness goals, limitations or preferences in terms of pace, teaching style and location. This means you may need to compromise on some of your individual tastes when joining a boot camp class.
There is also limited one-on-one time with the trainer in a boot camp class as the trainer's main goal is to give everyone equal attention and mobilise the class as a whole. For those who need personal attention when training, a boot camp class may feel too impersonal.
Articles related to your search: