How to find the perfect boxing trainer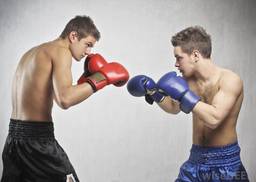 If you are motivated to learn boxing or wish to improve the boxing skills you have already developed, then finding the right boxing trainer is vital to your success. Read on to find out what to look for when searching for the perfect partner in your boxing journey:
A good boxing trainer has experience not only as a boxer but also as a professional who can work with clients of all types and all abilities. A trainer with lots of experience working with clients will have you practice on specific skills until you gradually build up a skill set, rather than making you work on everything at once with no real direction. Look for a trainer who makes an effort to explain techniques to you simply and who can come down to your level and explain complicated procedures effectively and clearly.
A good boxing trainer is analytical and can pinpoint minor mistakes in a beginner or intermediate boxer's movement and form. Make sure your trainer instructs you in a detailed manner and is quick to identify mistakes, however minor, in your movements. This will prevent you from developing bad habits as you progress along your boxing journey.
The perfect boxing trainer should be able to read his or her client's moods and know when they are in need of motivation, empathy, discipline or a break. Boxing can be intensely strenuous and emotional for those who are just beginning, therefore, make sure you find a boxing trainer who can pick up on how you're feeling and work with you to get the best results out of each training session.
Finally, the perfect boxing trainer should be creative in terms of being capable of coming up with exciting ways to teach you new skills. There is nothing worse than being put through the same drills over and over for each training session. Rather, boxing trainers should make the effort to challenge and excite you with each session so that you remain fully engaged in the session.
Articles related to your search: