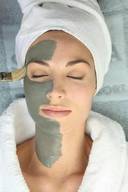 You either love them, or you hate them. Regardless, your skin may need them every once in a while to keep healthy, glowing and clean. Facials range from being very simple to very, very complicated. Whether you are getting a basic exfoliation and extraction or a gold plated experience of the rich and famous, facials are something that should be a priority for your skin.
Skin or beauty professionals often do facials, each being well practiced in their own technique. Various facials may require a line of a certain product or type of technology. At the least, one should try to book four facials a year - one for every changing season in order to let the skin properly adapt throughout the year. If possible, it is beneficial to put aside time for a facial every one to two months.
Here are some of the benefits that facials have to offer:
1) Improved Blood Circulation.
The circulation of blood beneath our skin plays a huge role in how our skin looks on the surface. When the blood is circulating poorly, the skin is left looking dull and grey. Things like exercise improve blood circulation, as well as things like a massage. A facial that involves massaging the facial tissue will result in blood getting more movement and oxygen, resulting in a healthier looking face.
2) Stress Reduction.
Setting aside time and money to do something that is beneficial to your health and well being is important in today's tough working environment. Deciding to look after your physical and mental health will allow you to feel more energetic, more positive and more productive. A facial is a great way to switch off for an hour or so and go back into the world feeling relaxed and rejuvenated. Your skin, just as every other part of the body, does not perform well under stress. Stress can often cause the skin to look tired as well as opening to the gate for stress-related skin diseases such as acne and psoriasis.
3) The Detox.
For our skin to remain healthy, it is important that our lymphatic system remains in top condition. The lymphatic system is responsible for moving toxins and wastes out of our bodies. We are constantly exposed to a huge amount of toxic elements, which is why our lymphatic systems may sometimes need a little help. A facial can be of assistance in this area! Many facials include a lymphatic drainage, using special massage techniques to remove toxins and bloating from the face.
A facial is not a bad thing to consider for your next time out. To find a professional in your area, please feel free to visit our homepage.
Articles related to your search: