Safety tips for CrossFit beginners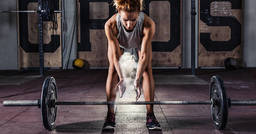 CrossFit is well known as a challenging form of fitness that pushes its participants to the limits of their physical strength and endurance. It is also renowned as a highly effective form of exercise that improves muscle definition and blasts fat faster than many other workout disciplines. However, with all these benefits come certain risks if CrossFit sessions do not meet safety requirements, or if gym-goers make dangerous mistakes while doing cross fit. Take note of these important safety tips to ensure that you get the maximum benefit out of CrossFit without endangering yourself:
Make sure you warm up and cool down sufficiently as part of your workout session. When you omit to warm up, your muscles are less flexible and able to bear heavy loads, which makes the risk of injury greater as your muscles could become strained or damaged. Cooling down is also important because it eases your body out of the exercise session and helps them to contract to their resting state in a safe and slow way.
Make sure you start your CrossFit exercise plan with easier exercises and work your way up to more advanced moves. If you feel a movement or action may be too difficult for you at your level of fitness, be honest with your instructor and ask to do a less dangerous version of the required movement. Do not take unnecessary risks early on in your CrossFit session, as building confidence is an important component of improving your CrossFit skills and can be most effectively done when you gradually increase the difficulty level of your sessions.
Make sure you team up with a trustworthy spotter to team up with you during weight lifting sessions. This is especially important if you are a beginner at CrossFit or are increasing the weight or reps of your lifting session. Spotters are important because they can assist you if a weight is too heavy and can give you advice on your form.