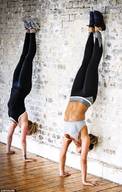 CrossFit
---
CrossFit is a fitness revolution that has taken the world by storm. CrossFit is arguably one of the most challenging fitness choices and should not be taken lightly.
CrossFit can be defined as a fitness regime that knows no specialization – meaning that the workout aims to create proficiency at a variety of different skills. The workout itself is based around performing a wide variety of different strengthening workouts that target different parts of your body, as opposed to only focusing on a few key groups.
What is interesting about CrossFit is that pretty much anybody can do it. The program stays the same no matter the ability of the person doing it. What will change, however, is the scale of intensity. CrossFit has been known to train elderly persons with heart disease, right along to top professional athletes.
How Does CrossFit work?
Each CrossFit class will work as a stepping-stone towards the next class. Your first class will be merely introductory, using very basic workouts that aren't too extreme in order to avoid anybody getting hurt. Your second class will be your Elements class where you will be taught about the nine core movements of CrossFit. This class will also teach you the importance of form and how to navigate through weight training safely. If you have made it into normal classes, bravo! This class works simply. There is one trainer who navigates and assists people as they move along the CrossFit circuit.
If you are up to the challenge, please head to our homepage to find a CrossFit class in your area.