What to look for when choosing a boxing gym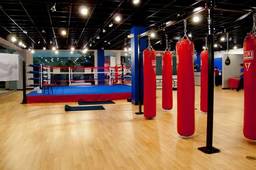 When done correctly, boxing can be one of the most effective forms of exercise that both improves muscle tone and burns kilojoules. However, without the correct equipment and environment, boxing becomes less effective as an exercise and can even be dangerous. Read on to find out what to look for if you are interested in finding a boxing gym:
Make sure you find a gym with an encouraging and exciting atmosphere.
Boxing is a high-energy sport that requires motivation and enthusiasm. It is also highly technical, which can result in beginners growing despondent at the slow rate of their progress. Therefore, it is important to find a boxing gym that makes you genuinely excited about the sport and that makes you feel encouraged when its technical aspects get the better of you. Look for dedicated and passionate trainers who are invested in your progress and a vibey atmosphere where staff and the boxing community are welcoming and friendly.
Speak to the trainers and owners of the gym to find out if they can meet your needs.
When looking for a boxing gym that suits you, check out a few different options and speak to the trainers and staff at each location. Make sure you are honest about your personal boxing goals, level of experience, any health conditions you have, and what your budget is. This will ensure that you streamline your search to those gyms that can realistically fit your needs.
Adopt a different approach if you want to compete.
If your boxing goals include competing in tournaments, look for local amateur boxing matches and find out which gyms are being represented by the best amateur boxers. This will give you a good indication of which boxing gyms have a high success rate of boxing champions and can also help you to find trainers that are involved in the competition scene.