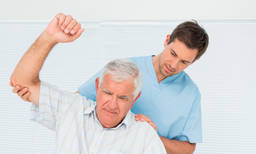 Physiotherapy
---
Physiotherapy is a popular and well sought after form of physical therapy or rehabilitation that deals with restoring movement to people who have been affected by an injury, sickness or a disability. A physiotherapist assist patients through exercise and movement as well as generally educating patients on how their body works and how to take care of it or prevent further injury.
Physiotherapy is a science-based practice that not only focuses on physical rehabilitation, but also places a large amount of focus on teaching their patient to be independent and in control of their own health and care.
The Benefits of Physiotherapy
Physiotherapy addresses a wide range of ailments and is able to be beneficial to a large amount of patients suffering from different things. Physiotherapy deals with cardiopulmonary, orthopaedic as well as neurological problems.
Cardiopulmonary Issues
Problems with the heart usually prevent people from living an independent lifestyle, which is what physiotherapy aims to change. Through a series of guided exercises and resistance training, it is highly possibly for patients suffering from cardiopulmonary problems to have a higher quality of life and endurance.
Orthopaedic Problems
Orthopaedic issues are the most commonly treated amongst physiotherapists. These issues may be due to back pain, sports injuries, strained muscles, fractures and so on. A physiotherapist will be able to guide a patient through strengthening exercises as well as exercises that increase flexibility, movement and endurance.
Neurological Problems
Patients suffering from neurological problems are patients who desperately need to be assisted in learning how to live a semi or even fully dependent life. Some of these disorders include Parkinson's, strokes, spinal chord injury and cerebral palsy. All of these disorders require that the brain be retrained into performing every day tasks such as holding objects and feeding themselves. Physiotherapy focuses on rehabilitating these various functions in order to improve patients quality of life and independence.
For a physiotherapist in your area, please go to our homepage.
Articles related to your search: