Your guide to French manicures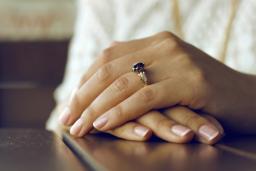 French manicures have long been considered the ultimate when it comes to nail fashion. They have a reputation for femininity, class, and elegance. Why not channel French sophistication into your nail look and get yourself a French manicure? Here is our guide for what to expect and how to specify exactly how you would like your French manicure to look:
A French manicure is recognisable by its precise white tips and clear, or slightly pink-tinted polish. There is a lot of room for variety when it comes to choosing the thickness of the tip – which can be ultra-slim, or up to almost a centimetre in thickness – and the shape and length of the nail itself. People often choose this style because of how easily it complements almost any look or style of dress, while still maintaining the natural beauty of one's hands.
The traditional French manicure style is timeless, but can become boring if you've had the same look for years. Luckily, there are many variations of this classic for you to experiment with. Why not keep a classic French manicure style and elevate the look with some nail art. Diamantes can be easily applied with nail glue to give your hands a bit of sparkle, and there are endless nail art applications that you can adhere to the clear part of your polish to enhance a French manicure.
The traditional French manicure can also get a makeover by contrasting geometric with organic shapes. Ask for your nails to be styled into harsh square tips and contrast this edgy look with the traditional softly rounded French tip for an eye-catching result. Finally, experiment with a different nail colour to go with your classic white tips. Soft pastel pinks are a feminine and delicate twist, but you can also go for something a bot more daring, such as sparkly polish, chrome gold, or silver polish.