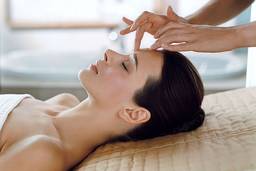 Craniosacral Therapy
---
The name itself sounds daunting enough, but Craniosacral Therapy is a form of therapy that is non-invasive, gentle and aims to restore vitality and balance to the mind and body. Craniosacral Therapy is based around the idea of healing the body and mind through light touch, gently manipulating the body to hear itself in a way that it usually does not. The light touch of a Craniosacral Therapist will cause your body to react by starting to listen to itself and what is truly going on through out your body and mind. Often there are definite changes that occur to the mind, body and spirit once a craniosacral session has been experienced.
Who Can Benefit?
Due to the gentle and light nature of Craniosacral Therapy, the practice is suited to a wide variety of patients – from newborn babies to new mothers, as well as the elderly. Many people turn to Craniosacral Therapy as a way to heal acute headaches, back pain, anxiety and tension. Patients also may turn to the practice as a way to remove stress and negative energy from their body in order to function at a high performance through out our very busy lives.
Craniosacral Therapy allows a rare stillness to overtake the body, something that we have been unaccustomed to in our fast paced world. The practice focuses on teaching the body how to refocus, re-energies and to find a wholesome balance within itself. Craniosacral Therapy has been known to be beneficial when it is used alongside other energy-based practices such as Yoga, Acupuncture and Homeopathy.
For more information on Craniosacral Therapy, contact a therapist in your area by visiting our homepage.