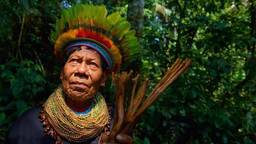 Shamanic Healing
---
Although it may seem like a foreign concept to some, Shamanic Healing is actually a spiritual practice that has co-exited amongst multiple religions. From Buddhism to Christianity, Shamanic Healing has been practiced in one way or another. Shamanism does not identify with one religion or ideology, but is rather a healing practice that is rooted in the common belief that we are all connected to the divine in all things.
What is a Shaman?
A Shaman is somebody who dedicates their life to altering their consciousness in order to be more in touch with the physical realm. They then use this connection with their spirituality to heal and help members of their community or anybody who seeks their advice.
A Shaman is somebody who can alternate between altered states of consciousness, possessing the ability to enter alternated states at will, and controlling them while moving in and out of those states. They are able to successfully mediate or act as a connection between the needs of the physical realm and they needs of the spiritual world. They will communicate these needs in a way that can be understood and utilized by the community or those who have asked for help. A Shaman views their role as somebody who can serve a community where other disciplines cannot – such as doctors, leaders, priests, physicians and psychiatrists.
Although Shamanic Healing may seem like a very alternitive and foreign concept, you will be able to make contact with a Shaman in your area through visiting our homepage.