Day spas and how they can help you unwind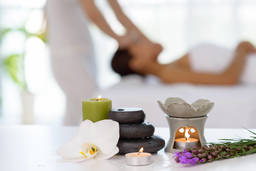 A trip to the day spa can give you something to look forward to, and can leave you with a deep sense of well-being and relaxation for days. Day spas offer a wide variety of treatments that are designed to pamper you and indulge your need for a good dose of self-care. Going to a day spa not only provides you with a form of physical relief but can also be a fun and enjoyable way to give your mind a break from stress.
Ensure you wear a comfortable outfit to the day spa that is easy to take off and put on in between treatments. If you are staying overnight and are planning on enjoying an evening meal at the establishment, make sure you pack an outfit that is appropriate for the centre. She spas will allow you to go to dinner after treatments in casual clothing and slippers, while others may expect you to dress more formally. Ask the spa of your choice beforehand to make sure you bring suitable clothing.
If you're planning on visiting the steam room or sauna, or on swimming, using gym facilities or taking part in a yoga session, make sure you pack the necessary equipment and a change of clothes. Most spas will provide you with a robe, towels and a pair of comfy slippers, but ensure that you enquire after the availability of these items to make sure.
When you schedule your spa day, you will be able to choose the treatments you want to indulge in. These will often be available as a discounted package with a variety of treatments, or you can custom choose your own itinerary for the day.
You can also request either a male or a female therapist for your treatments depending on which you would be more comfortable with. Remember, for many treatments, such as back massages or waxes, you will be required to remove some or all of your clothing. Make sure you are comfortable to do this with the therapist you specify.