A beginners guide to the essentials of a new cycling kit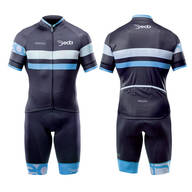 For beginners just entering the exciting world of cycling, choosing the perfect kit that meets their level of ability, price range and specific cycling fitness goals can be a daunting task. With so many options to choose from, it's no wonder many simply opt for the cheapest and most readily available gear. If you are a beginner cycler looking to build the right kit for you, take note of these essential cycling items you simply cannot do without:
A multi-tool kit and spare equipment
Cycling as a sport often demands that you have a basic knowledge of how to do simple repairs on the roadside. Including a high-quality multi-tool kit in your cycling pack is the easiest and most efficient way to solve bike breakdowns. Punctures are one of the most common problems experienced by cyclists, so ensure you also carry a spare inner tube or two, a small pump and tyre levers. This is especially important for long-distance cycling trips.
Appropriate cycling clothing
Ensure you have checked the weather forecast before setting off on a cycling journey. If you are planning on cycling for an extended period of time, ensure you pack clothing that prepares you for a variety of weather conditions. The basic requirements for a cycling outfit in mild to warm weather include a base layer, a jersey with short sleeves, knee and arm warmers and a lightweight, foldable rain jacket. For colder climates, gloves and long-sleeved jerseys are necessary. Ensure your cycling clothing is as lightweight as possible and fits snugly to ensure you are streamlined.
Appropriate safety gear
Cycling can be dangerous, especially on roads where one must contend with surrounding traffic, or in difficult terrain. A high-quality helmet is vital and should be fitted by an expert at a cyclist shop. A good cycling helmet should have an easily adjustable strap that can be secured under the chin and does not come loose. Be aware that more expensive helmets are not necessarily the best quality option. Ask an expert at a cyclist shop for advice and look for helmets with tactile adjustment dials that allow you to loosen or tighten the inner cradle that holds your head.