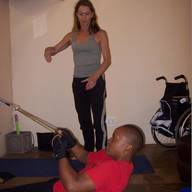 MY NAME IS DR DREY DANIELS REGISTERED AS INT@CT THERAPEUTIC PILATES AND BODY CENTERED-THERAPIES. I HAVE BEEN WORKING ON A MOVEMENT METHODOLOGY CALLED 'TRANSACTIVE KINETICS' A FORM OF CBT, WHICH IS ESSENTIALLY ALLOWING THE MOVER TO ENGAGE IN A PROCESS OF DEAL-MAKING, OR COGNITIVE TRANSACTIONING DURING A SESSION. THIS WORK IS VERY POWERFUL IN THE AREAS OF DEPRESSION, ADDICTION, TRAUMA AND OTHER. I AM MORE THAN HAPPY TO PROVIDE OTHER INFORMATION ON REQUEST. MY WORK OVER THE PAST 5 YEARS HAS COMPRISED ESTABLISHING THERAPEUTIC EXERCISES CLINICS IN VARIOUS AFRICAN COUNTRIES, WITH HIV INFECTED WOMEN, SUFFERING THE PHYSICAL SIDE-EFFECTS OF ARVS KIND REGARDS, DREY DANIELS
Transactive therapy breathing exercise forms the fundamental of the work. Seated position, cross legs with a neutral spine (eyes closed)..
2. take a deep inbreath and raise arms straight over your head... feel the lightness as your spine extends and intercostal muscles lift and open
3. Bring your arms down and improvise any interim movement, holding your breath...ie/ intertwine fingers and pulse elbows out to the side for a count of 4, concentrating only on the movement and wht's happening in the body (no active cognition, rather metacognition which is essentially though about the thought), ie how long can you hold your breath, experiencing the twisting of the upper body etc.
4. Return your body to centre and slowly exhale, pulling your core into your sine (basic contraction) and allowing any negative or disturbing thoughts to manifest.
5. When the full breath is complete, begin to raise your arms back over your head, with another full inbreath, allowing lighter, positive thoughts to replace the negative.
It's our belief, that the holding phase or interim (interactive or transactive phase) facilitates the catharsis in terms of transference. It can be quite fun, as you can also be very creative in the transactive phase... ie quirky, different movements, or even primal movement, whichever feels right. Let me know how it goes... it should be a good way to reawaken rekindle some of the dormant senses of the body, helps with self-determination, self-efficacy and autonomy...