Animal therapy: how animals can help you heal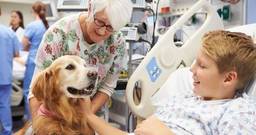 For many people the world over, animals are a source of immense comfort and peace. It's no surprise that furry friends, and sometimes those with feathers and scales, have become a permanent feature in the world of psychology and therapy. Therapy animals could be the alternative approach to mental, emotional and even physical healing that you need, so read on to find out more about therapy animals and how they can impact your life for the better.
Dogs are one of the most popular and effective types of therapy animal and feature in all shapes and sizes in hospitals, rehabilitation centres and in private home care for patients who have permanent conditions and need constant comfort from the companionship of a service dog.
Dogs are also used to make traumatised people less anxious in emergency situations and are often aids for children with learning disabilities, anger management problems and anxiety or depression. In some cases, therapy dogs are even used in programmes to help children read. In physical rehabilitation, dogs are also used to help patients regain muscular strength or fine motor skills by taking care of and exercising their pet.
Cats are also used as therapy animals for those who find the naturally boisterous temperaments of dogs intimidating or too high maintenance. Cats are a common feature in retirement homes and are often not specifically trained to perform a specific service, but are just enjoyed as a source of comfort for elderly men and women.
Horses are a common therapy animal and are helpful for addressing the needs of multiple ailments or conditions. For those in rehabilitation centres for substance addiction or behavioural issues, caring for a large animal provides a healthy and enjoyable distraction. Horses are also effective service animals in that they improve a rehabilitation patient's ability to form healthy relationship bonds and boost a patient's self-confidence.