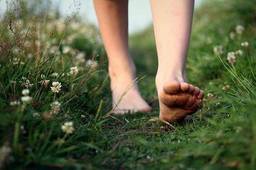 A Podiatrist is a medical professional who specialises in the treatment and diagnosing of conditions of the foot, ankle and leg area. A podiatrist can also fall under being named a podiatric physical or surgeon. Podiatrist undergo years of tertiary education and residency before they are allowed to practice – making them the most qualified people to deal with issue of the feet.
A podiatrist can treat many different ailments and conditions of the foot, ranging from treating children to athletes to the elderly. Below we will discuss the different ways that podiatry an affect certain patients and what to look out for when it comes to foot health.
Children and Podiatry:
Children's feet, like most of their body, are constantly changing and developing. This stage of development can often leave room for complications, making it a good idea for your child to visit a podiatrist annually. Problems with the foot or feet are common in children, so be sure to keep an eye out for any strange walking habits such as limping or walking on their tiptoes. You should send your child to a podiatrist if the following symptoms are apparent:
There are lumps and bumps on the legs or feet
It is difficult for your child to walk
There are problems with the skin on the foot or the toenails
Your child falls or stumbles often for no reason
Your child is experiencing chronic pain in the foot, leg or ankle.
Your child's shoes have moulded unevenly.
The Elderly and Podiatry:
As the body ages, certain aspects of it begin to deteriorate. The feet are under an immense amount of strain from the moment we learn to walk – they are out balance and our grounding. Over the years, the strain we have put on our feet begins to show. It is important for the elderly to seek out podiatry care, as ailments of the feet can often be indicative of far more serious issues such as diabetes, arthritis and circulatory disorders. Below is a list of ways that the elderly can care for their feet before their condition worsens:
Keep feet out of cold temperatures.
Be aware of blood circulation to the feet. Sit with your legs up as often as you can and remember to move around and stretch after being still for too long.
Ingrown toenails can be extremely painful and difficult to remove. Avoid them by trimming your toenails in a straight line, and avoid cutting them into the corners of your toes.
Avoid foot wear that does not fit – whether it is too big or too small.
Whether you are young or old, you can benefit from visiting a podiatrist. To find a professional I nyou area, please visit our homepage.