Corporate massage: Bringing relaxation into the workplace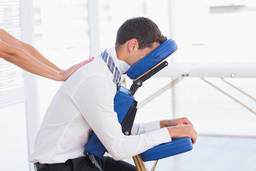 For many, an office environment is a place of extreme stress, strict deadlines and tense relationships. In today's corporate world, many employees suffer from the physical and mental side effects of living unbalanced lives where work seems to dominate every waking hour.
Corporate massage can help to combat the negative effects of stress and long working hours by providing a heavenly respite during the working day. Read on to find out how corporate massage can reduce your stress levels and improve your experience of working in the corporate world.
Some of the negative effects of too much stress include various aches and pains throughout the body, such as in the neck, shoulders and back, from sitting for too long in one position at an office desk and from being physically tense in response to emotional stress. In addition to his, too much stress can result in higher blood pressure, insomnia, weight gain, depression, anxiety, poor diet, and extreme fatigue.
A corporate massage is also known as a seated chair massage and is performed by a qualified massage therapist in the corporate workplace. The therapist massages his or her client in an ergonomic massage chair that fits appropriately into the office environment. In addition to this, corporate massage therapy does not require the removal or clothing or for clients to change into robes or other massage garments for the therapy to take place. This means that corporate massage therapy is suited to a workplace environment and does not cause a distraction for those going about their daily duties in the office. The therapist makes use of a variety of massage techniques, which are all designed to reduce muscle pain, promote relaxation, and reduce stress and tension. Each corporate massage session can last from five minutes up to an hour and is focused on the neck, shoulders, arms, back, hands and feet, which are targeted areas because they are often strained after long hours at work.
Articles related to your search: