Massage: How can it help you?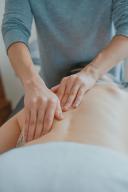 Massage is renowned as a therapeutic discipline that has physical health benefits, as well as mental health benefits. Massage can be restorative and rehabilitative for damaged muscles, strained ligaments, or stiff joints, and can help to surface emotional turmoil, ease stress, or simply improve mood.
Massage is a very broad category that includes a plethora of techniques and specialities, from Eastern traditions – like Indian head massage or Thai yoga massage – to Western traditions – like Swedish massage or Deep Tissue massage. Both traditions borrow methods from one another and, in many instances, a strict dividing line cannot be drawn between Eastern and Western interpretations of massage.
Massage, in general, has been used to treat a wide range of chronic disorders. Some of these include anxiety, insomnia, soft tissue injuries, chronic lower back pain, or high blood pressure. One of the most immediate benefits of massage is a sense of calm, relief from muscle tension, and an overall sense of relaxation. This occurs as a result of an increase of endorphins – the body's natural 'feel good' hormone – in the bloodstream during and after a massage session. In addition, stress hormones, like cortisol, norepinephrine, or adrenaline, are also present in decreased concentrations in the bloodstream after a massage. The physical benefits of massage include increased joint flexibility, better skin tone, improved mental alertness, reduced concentration of stress hormones in the blood, activation of the lymphatic system, boosted circulation, decreased muscle tension, and improved rehabilitation of soft tissue injuries.
Massage is a treatment that is accessible at almost every age. Baby massage, for example, can be used to treat infants suffering from colic, sleeping issues, or digestion problems. Studies have also indicated that premature babies who receive massage therapy gain weight at a faster rate than those who don't.
Although massage has undeniable benefits, it should be avoided under certain circumstances, or only resorted to with a recommendation by a medical specialist or general practitioner. Such circumstances include pregnancy, if skin rashes or infections of the skin are present, if broken bones or fractures are suspected, or if the client has a pre-existing condition that could become agitated by massage techniques, such as eczema.
Articles related to your search: