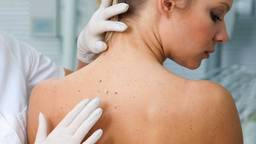 Dermatologist
---
A Dermatologist is somebody who has been trained to study, research, treat and diagnose skin conditions. A Dermatologist is a Medical Doctor and must have a general medical degree, which takes 3 – 4 years as well as a further specialized qualification which focuses on skin and dermatology for another 3-4 years. It goes without saying that a Dermatologist is more than qualified when it comes to treating any issues you may have with your skin. A Dermatologist will manage any issues with the skin through either topical or systematic medication. They may also be required to explore solutions through dermatologic surgery, cosmetic surgery, laser therapy or radiotherapy. These are not the only treatments or procedures that a Dermatologist can perform.
The skin is the largest organ in (and around) the human body, which makes it no surprise that there are a variety of common skin disorders that may arise. Here are a few of them:
Skin Cancer

Hand Dermatitis – caused by excessive contact with chemical household cleaning products.

Warts

Cold sores/Herpes

Eczema

Acne

Psoriasis
The Role of a Dermatologist
A Dermatologist can practice in a variety of different places and can play a different role for various medical procedures. A Dermatologist must be trained in most areas of medical expertise in order to consult with surgeons and other doctors on various cases. A Dermatologist may practice in a public hospital, have their own practice or act as a consultant to other specialists.
A Dermatologist will be able to perform surgery to prevent disease or possibly provide early treatment for diseases such as skin cancer. They are also able to perform aesthetic procedures that may assist with cosmetic issues such as moles, growths or skin discolouration. They may also perform surgeries that establish diagnoses.
If you are seeking a Dermotologist in your area, please go to our homepage for more information.