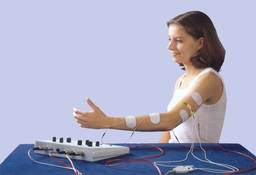 Biofeedback Therapy
---
Think about the movements you can control – you control if you want to move your arm or if you want to walk. Just as we can control a variety of movements, there are functions in our body that are involuntary and are often not though about. These functions include heart rate, blood pressure and muscle tension. Biofeedback Therapy is a form of therapy that teaches patients to have control over these involuntary movements.
How Does it Work?
Biofeedback Therapy is a drug free practice that focuses on bringing awareness to the patient about the way their body functions. Patients will be set up to electrodes that connect to a screen. The screen then presents to you the way your body is working and how things such as high blood pressure, temperature and heat rate are affected by stressful situations. This visual stimulation then allows the patients to see the results of them controlling these functions right in front of their eyes. Biofeedback Therapists believe that once a person understands how to control certain aspects of their body, they immediately have more control over their health and wellbeing.
Patients often seek out Biofeedback Therapists if they suffer from chronic headaches, chronic pain and high blood pressure. Here are a few of the techniques that are practiced in a Biofeedback session to attempt to regain control over various bodily functions.
Deep breathing

Progressive muscle relaxation -- alternately tightening and then relaxing different muscle groups

Guided imagery -- concentrating on a specific image (such as the color and texture of an orange) to focus your mind and make you feel more relaxed

Mindfulness meditation -- focusing your thoughts and letting go of negative emotions
If Biofeedback Therapy sounds like something that could benefit you, please find a professional in your area by visiting our homepage.