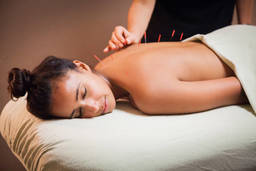 For most of us, Acupuncture is just a daunting form of therapy that involved sticking needles into the body to alleviate various pressure and pain. However, this isn't the only function of Acupuncture.  Acupuncture is a complete medical protocol focused on correcting imbalances of energy in the body. From its inception in China more than 2,500 years ago, acupuncture has been used traditionally to prevent, diagnose and treat disease, as well as to improve general health.
The traditional explanation for acupuncture's effectiveness is that it modifies the flow of energy (known as qi or chi) throughout the body, but there is no scientific consensus that this is actually its mechanism of action. However, there is a lot of research that proves that acupuncture is an extremely effective way to ease pain. In fact, much research in the West has focused on this pain-relieving effect, rather than acupuncture's traditional role of balancing energy to address a wide range of disorders and the more subtle mechanisms that may be responsible for its overall benefits to health.
Because the goal of acupuncture is to promote and restore the balance of energy, which flows throughout the body, the benefits of acupuncture can extend to a wide variety of conditions, from emotional disorders (anxiety, depression) to digestive complaints (nausea, vomiting, irritable bowel syndrome). It can be beneficial for pain syndromes due to an injury or associated with chronic degenerative diseases such as rheumatoid arthritis. It can also be helpful in treating neurological problems like migraines or Parkinson's disease, or as a rehabilitation strategy for individuals who suffered a stroke. Respiratory conditions, including sinusitis and asthma have been relieved with acupuncture, as have many gynecologic disorders and infertility. Acupuncture has also proved beneficial for reducing fatigue and addictions, and for promoting overall well-being.
To find an Acupuncture therapist in your area, please visit our homepage.