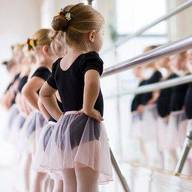 Dancing is, without a doubt, an incredible way to instill discipline, patience, and confidence in children. Dancing Studios provide children with space to safely explore their bodies, their interests, and their interaction skills. Students at a Dancing Studio, regardless of their skill in dance, will undoubtedly take something away from the experience. Whether they learn how to be prepared for activities (dancing is not kind to the unprepared) or how to work as a team, the lessons are often beneficial in whatever career or path they choose.
Dancing Studios are usually run by one teacher, who will have had to undergo rigorous training and examination in order to be allowed to teach students. Studios vary in what lessons and dance disciplines they offer - some prefer to keep their studio strictly ballet whilst some offer a variety of styles such as hip-hop, musical theatre, tap dancing and contemporary.
A Dancing Studio will often cater for children from pre-school through to advanced levels. Dancing teachers share an incredible journey with the students that they teach from beginning to end. Dancing Studios will also, more often than not, put on an annual show that showcases all the students from the studio. It is an awesome experience for children and young adults to experience being onstage and being applauded for their hard work. It is a common ethos of Dancing Studios to promote dedication, commitment, and integrity.
It is important to know which studio you are sending your child to. Some studios may be very strict with how they train their children whilst some may have a more calm and relaxed approach - this all depends on what you hope to gain from the experience. Students will also be able to partake in yearly examinations and competitions through their studio, giving them goals to work towards outside of school.
If you are considering sending your child, or yourself, to a Dance Studio, please feel free to contact the professionals in your area through our homepage!