How to choose the right couples counsellor for you and your partner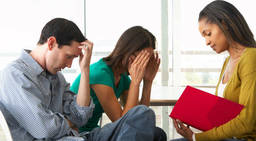 The relationship that you have built with your significant other is deeply intimate, personal and unique. Therefore, opening up this relationship to others who are there to help is often very difficult and can feel like an invasion of privacy. Despite this, taking the step with your partner to seek professional guidance if your relationship is faltering is certainly a step in the right direction and demonstrates that, as a team, you are serious about re-establishing the harmony you have lost.
Familiarise yourself with these factors to look out for if you need a couple's counsellor and make sure you find the professional perfectly suited to you and your partner's needs.
Primarily, it is vital to ensure that your therapist has the necessary experience and qualifications to provide the service you need. Many counsellors advertising themselves as couples counsellors may not actually be trained in relationship therapy, which is a specific type of therapy. In addition to this, ensure you choose a therapist who has experience and who has past clients that can vouch for his/ her counselling skills. Ask trusted friends or family members, or even your personal doctor, for advice in this regard.
Make sure you choose a therapist who is motivated to help couples find solutions and stay together rather than a therapist who makes divorce or breaking up an option from the outset of therapy.
Choose a therapist that makes you feel comfortable and willing to be vulnerable about your own faults, insecurities and most private arguments or conflicts with your partner. Your couple's counsellor should be there to hear every difficulty related to your current relationship, from disagreements regarding how to raise children, to sexual dysfunctions. If you and your partner do not feel safe and free to share your genuine emotions with a counsellor, the therapy will not be successful and could even lead to more damage and concussion in your relationship.
Articles related to your search: